Board Appoints New Executive Director – Annie Knight
21 July 2023
Summer Greetings,
The Board of Directors is excited to announce the appointment of Annie Knight as the new Executive Director of Northern Waters Land Trust. The Recruiting Committee wholeheartedly recommended Annie to the Board of Directors based on her successful track record and capacity to lead Northern Waters Land Trust into the future.
Annie moves into this position after serving as NWLT's Grants Manager and Conservation Specialist for the past three years. Annie has demonstrated not only her knowledge of our conservation mission but has also built strong relationships with our partners, stakeholder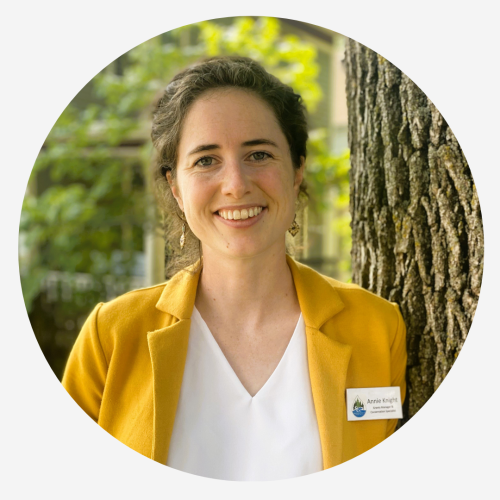 s, and community members. Recognition of that success in building relationships has come with her recent appointment by the Governor of Minnesota to the state-wide Clean Water Council as one of two non-profit organization representatives on the Council.
Annie has a degree in Environmental Studies from the College of Saint Benedict and Saint John's University. Her background includes work at a conservation biology research station in Patagonia Chile. She was also a Program Resources Specialist with the Girl Scouts and a Youth Development Specialist with at risk adolescent girls. Growing up coming to this area instilled a deep gratitude for the lake country, which ultimately led Annie to a career in conservation. Annie, her husband, and son live on a lake near Walker. They cherish every moment on the water, whether the ice is on or off the lake.
Annie's demonstrated abilities in relationship building with our partners, stakeholders, and communities over the past several years was accomplished in the thick of the Covid pandemic. She will continue to demonstrate her ability to adapt, change the way we engage, and use technology to reach out to our partners and stakeholders. She will continue to work alongside partners to implement our grant funded programs and to expand our successes with new programs and grants that will directly benefit hundreds of watersheds around our lakes and rivers in this region of Minnesota. We are confident that Annie will continue to provide the leadership she has demonstrated.
We have accomplished so much in the 30 years since NWLT was founded. With Annie assuming the role of Executive Director we are greatly looking forward to NWLT's next chapter.
Sincerely,
Bob Karls, Pete Fullerton, Kathy Brown, Terry Tripp
NWLT Recruiting Committee