Northern Waters Land Trust Sells Stony Point Land to U.S. Forest Service
For the past eight years, the Northern Waters Land Trust patiently waited to transfer a 3.15 acre parcel on Leech Lake in Cass County to the US Forest Service.  The wooded property with 1,030 shoreline feet is surrounded by Chippewa National Forest and is west of the Stony Point Campground.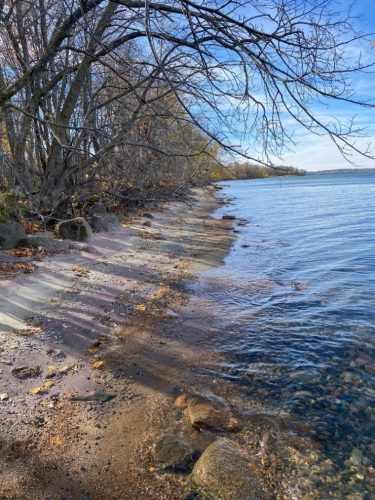 Prior to the construction of the Leech Lake Dam by the US Corps of Engineers nearly 150 years ago, the property was approximately 31.5 acres in size.  The higher water levels after the dam was built reduced the property to the present day configuration and size.
The property was obtained in 1960 by Russell Rehm, who became the subject of good-natured teasing by his friends in Walker for owning unbuildable wetland, but he retained the property, waiting to find an appropriate destination for it, and eventually transferred it to Stan Rehm and his wife, Leslie Boucher, who generously donated the property to NWLT (formerly Leech Lake Area Watershed Foundation) in 2014.
US Forest Service expressed interest in the property in 2014 and began seeking federal funding for the purchase.  Those funds were budgeted in 2020 and the land was purchased in August 2022.
NWLT is a non-profit charitable 501(c)(3) organization working in north central Minnesota in the Counties of Aitkin, Cass, Crow Wing, and Hubbard. As an accredited land trust, NWLT works to preserve land in order to protect water quality and preserve environmentally sensitive shoreland, streams, fish and wildlife habitats, wetlands, key forest tracts, and scenic vistas.  NWLT will use the proceeds to help support the organization's important work of preserving land to protect water .  Protecting land to preserve water is the mission of NWLT. 
Bob Karls, NWLT Board Chair, notes that "When we have the opportunity to work with generous partners and stakeholders in the watersheds that we are working in, it is amazing how much can be accomplished!  The generous donation of this land, in a location that is critical from an ecological and environmental perspective, fulfills our mission and meets the goals and objectives of the owners who made the donation to keep our lakes thriving and critical habitat preserved.  The transition to the U.S. Forest Service also assures that the land will be protected and managed for all generations to come in a manner that helps us all meet our aspirations for such a beautiful property and an asset for the fish and wildlife, and those who love its natural beauty."
Kathy DonCarlos, 9/12/22