Northern Waters Land Trust offers two land conservation programs to protect natural resources.
Conservation Easements (CE's)
Click here to view our "Landowner Options Booklet" and learn more about conservation easements.
Conservation Easements are agreements that limit or prohibit future developments on your land yet allows you to maintain ownership and most uses. The landowner makes the final decision on the agreement.
CE's are individually tailored to each property owner's needs, but all strive to preserve and protect natural or scenic features. These features, called "conservation values," might include significant wildlife and plant habitat, lake or river shoreline, wetlands, or important scenic or cultural lands which benefit the public.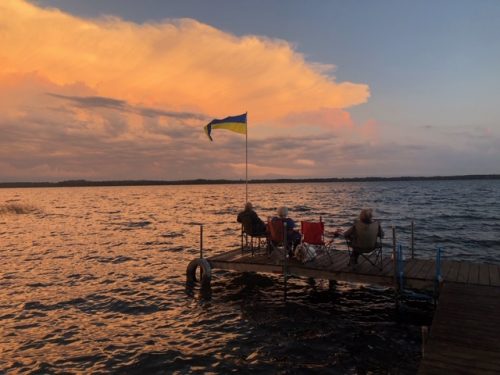 The restrictions in CE's are things you are willing to restrict, in the name of conservation. For example, you might note in a CE that:
No additional buildings could be constructed on your lands.
Buildings could only be located in a limited location
Only one lake access and dock are allowed with all other shoreline left natural.
CE's can either be donated or compensated:
CE's donated to qualifying conservation organizations like NWLT may be eligible for IRS charitable deductions--check with your financial consultant. Grants may be available to defray closing costs.
Landowners may also be compensated for placing CE's on their property. Some state, federal, or private grants are available and based on the value of the property's market value or sometimes the "conserved value" of the property.
In either case, the more restrictive the CE, the higher the value received.
Other CE features:
Because you retain ownership of your lands with a CE, you continue to pay property taxes.
Conservation easements are perpetual — they last forever. This means the rules of the CE apply to the current and all future landowners, permanently protecting the property.
Properties with CE's are monitored annually to ensure land owners continue to abide by the rules of the CE agreement.
Fee Title Acquisitions
Fee Title Acquisitions are a real estate transaction by a landowner who elects to sell or donate land for the purpose of habitat protection and public use. The land is typically conveyed to a governmental agency, such as DNR's Aquatic Management Areas (AMAs) , Scientific and Natural Areas (SNAs)—(not likely)  or Wildlife Management Areas (WMAs), the US Forest Service, a local county, or a qualifying conservation organization like NWLT, or the Nature Conservancy
If land value is donated, an IRS charitable donation may be available for the conservation value of the land. NWLT may use grant funding sources to purchase your land on behalf of a public entity if it meets our criteria.
We provide these programs to residents in lakes country at a nominal fee, or through land owner's participation in a grant-based program. NWLT works with multiple partners to find the solution for your conservation needs.
Landowner Options
---
Benefits of Conserved Lands and Healthy Forests
Forests are the key to supporting the abundant clean lakes and rivers. They:
Replenishes groundwater
Reduced runoff to surface waters
Captures and stores carbon dioxide, which reduced this greenhouse gas
Produces oxygen and reduces airborne pollution
Improves resiliency against pests and weather changes
Provides wildlife habitat