Preserving land to protect water with you!
"It gives us great pride and peace of mind to know that our sale of this land will go towards a very valuable cause and purpose. Its beauty will be forever protected along with its surrounding waters…"
Jim and Linda Pleski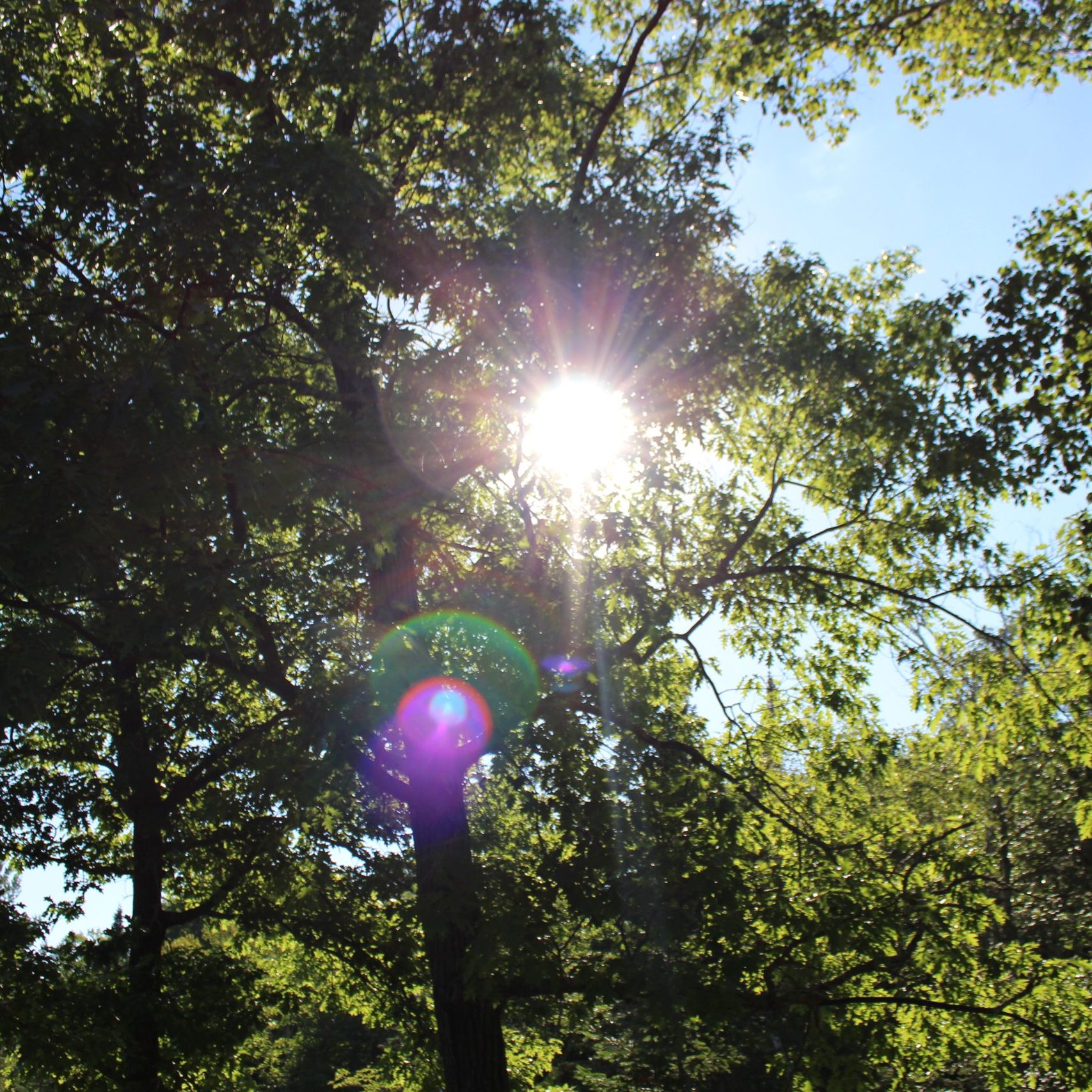 Conserved land provides numerous benefits to people and the environment. Preserved forestland along waterways acts as a protective barrier against pollution and sediment runoff, ensuring clean water for local communities. These conserved areas serve as crucial wildlife habitats and contribute to preserving species biodiversity. Additionally, they offer recreational opportunities such as fishing, hunting, and hiking, which are essential for driving tourism and supporting the local economy.
For sustainable farming and forestry businesses, conserved lands serve as a valuable resource, providing raw materials for food and wood products while creating job opportunities. Furthermore, the conservation of land helps maintain the region's scenic beauty, preserves its traditions, and protects historic landmarks, all of which are integral to the identity and character of northern Minnesota.
Your land is an important financial asset, but it's likely much more than that to you or your family.
Land means different things to different people: family heritage, working landscapes, habitat for plants and animals, solitude or recreation, citizen science monitoring, artistic inspiration, or simply a connection to place.
Every landowners' situation is unique, so we can help you understand the ecological value of your land, and what your conservation options are. Then, we can guide you through the steps to permanently preserve your land in a way that best meets your goals.
We have two land conservation options to help you protect your land.
You care about the future of your land, and there are a number of ways you can make sure the things you value about it will be there for generations to come.
NWLT offers two primary conservation methods for landowners to permanently protect your land:
By placing a conservation easement on the land, or

By transferring ownership to the Land Trust.
Protecting your land can lead to valuable tax incentives and the satisfaction of creating a legacy for future generations.
Learn more about both methods below.
Conservation Easements are agreements that limit or prohibit future developments on your land yet allows you to maintain ownership and most uses. The landowner makes the final decision on the agreement.
CE's are individually tailored to each property owner's needs, but all strive to preserve and protect natural or scenic features. These features, called "conservation values," might include significant wildlife and plant habitat, lake or river shoreline, wetlands, or important scenic or cultural lands which benefit the public.
Land Transfers (Acquisitions)
Land Acquisitions are a real estate transaction by a landowner who elects to sell or donate land for the purpose of habitat protection and public use. The land is typically conveyed to a governmental agency, such as DNR's Aquatic Management Areas (AMAs), Scientific and Natural Areas (SNAs), or Wildlife Management Areas (WMAs), the US Forest Service, a local county, or a qualifying conservation organization.
If land value is donated, an IRS charitable donation may be available for the conservation value of the land. NWLT may use grant funding sources to purchase your land on behalf of a public entity if it meets our criteria.
We provide these programs to residents in lakes country at a nominal fee, or through land owner's participation in a grant-based program. NWLT works with multiple partners to find the solution for your conservation needs.
There are a number of benefits for landowners.
Protecting land as a private individual or family in northern Minnesota offers several advantages, including valuable tax incentives and the assurance of making an impact for future generations. Donating land or placing an easement on land can lead to various financial benefits.
One significant benefit of donating a conservation easement is the potential for substantial tax advantages, provided it meets federal requirements. By claiming the value of the easement as a tax-deductible charitable donation, you can potentially lower your federal income tax. Additionally, it may also reduce your state income tax burden.
Beyond the financial benefits, a conservation easement allows you to plan for the future of the land and ensure its preservation for generations to come. It becomes a vital tool for passing on your land to the next generation, while also potentially lowering estate taxes. The conservation easement offers the opportunity to protect the land's natural and cultural values, securing its legacy and providing lasting benefits for both the environment and your family.
Make an Impact. Inspire Others.
Roosevelt Lake Aquatic Management Area
Roosevelt Lake AMA Grows Through A Land Donation
Lake Roosevelt, a 1,585-acre cold-water lake in Minnesota, serves as an important refuge for cisco (tullibee) fish. Protecting 75% of the land draining into the lake is crucial to ensure the survival of these temperature-sensitive species. The Roosevelt Lake Aquatic Management Area (AMA) was established in 2016 and recently expanded in March 2023 through a generous land donation on Woods Bay.
Lois and Bill Stevens donated a 5.5-acre peninsula to the Northern Waters Land Trust (NWLT) specifically for the Roosevelt Lake AMA. Inspired by the creation of the AMA and a previous donation by the Eggers Family, the Stevens contacted NWLT in 2021 to explore the possibility of a land donation. The addition was reviewed and approved by the Department of Natural Resources (DNR) in October 2021, and the donation process began. Outdoor Heritage Funds were used for the professional services to accept the land donation and the property was transferred to NWLT in September 2022. The DNR formally accepting the donation in March 2023.
The Stevens' land donation qualified for the Reinvest in Minnesota Critical Habitat Match Program, which aims to protect critical fish, wildlife, and native plant habitats through land acquisition and improvement. The conservation goals of the donated parcel align with the program's objectives, and as a result, the Stevens' contribution has been matched with funds from the program, amplifying the impact of protecting the lands and waters of north-central Minnesota.
By making a land donation to the Roosevelt Lake AMA and participating in the Critical Habitat Match Program, landowners like the Stevens can play a significant role in preserving and safeguarding the natural habitats and aquatic ecosystems of the region. Their generous act serves as an inspiring example of how individuals can make a lasting difference in protecting Minnesota's valuable natural resources for future generations to enjoy.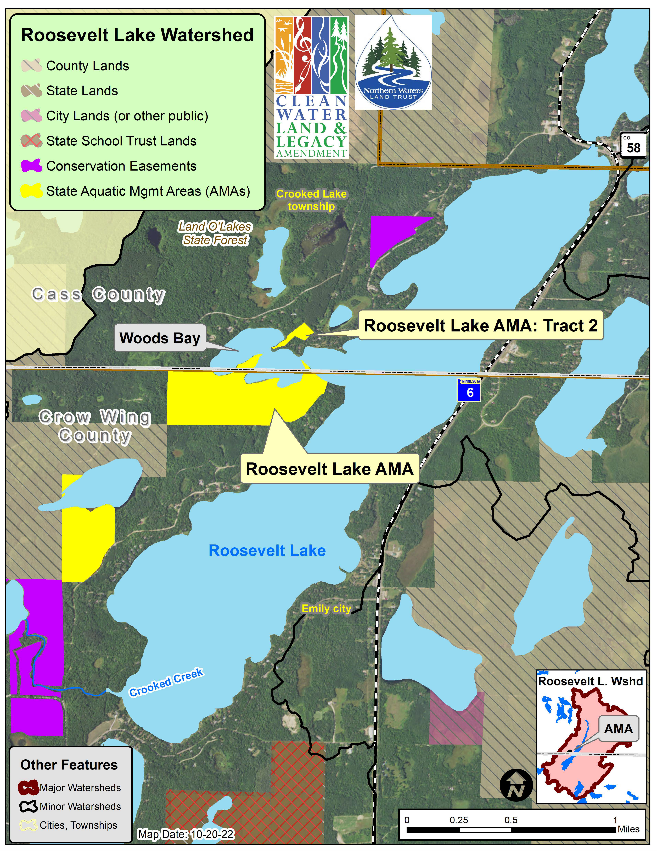 Funding for our largest programs comes from the Outdoor Heritage Fund (OHF).
Other funding sources include the Midwest Glacial Lakes Partnership, Initiative Foundation, and contributions from donors like you.
We work with multiple partners to find a solution for your conservation needs.
The primary funding source NWLT uses to support landowner's out-of-pocket costs to establish a conservation easement on their property, or facilitate an acquisition, is the Outdoor Heritage Fund.
NWLT also works in partnership with the DNR and area Soil & Water Conservation Districts to facilitate other grant-based conservation projects, through programs such as:
If you are interested in protecting your land or lake, let NWLT be your first point of contact to help determine which conservation program would work best for your land. Contact us at Info@NorthernWatersLandTrust.org.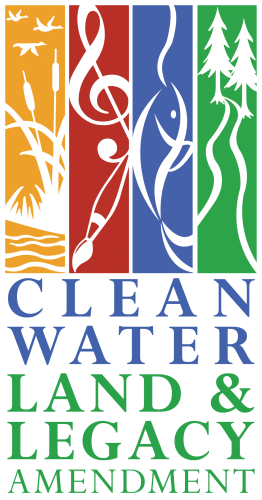 Established in 2008 when Minnesota voters passed the Clean Water, Land and Legacy Amendment (Legacy Amendment) to the Minnesota Constitution, the Outdoor Heritage Fund "may be spent only to restore, protect, and enhance wetlands, prairies, forest and habitat for fish, game, and wildlife."