The Northern Waters Land Trust is governed by a volunteer board of directors. These professionals have experience and expertise in business, law, education, finance, engineering, science, biology, and natural resources management — plus they all have a personal connection to and love of the natural resources of this special region of Minnesota.
Tim Bremicker, Board Chair
Following a natural resource management education and a 42 year career with MNDNR in wildlife conservation starting as summer duck bander and rising to the position of Division Director, Tim wanted to continue his passion and commitment to the Woman Lake area by serving on the NWLT Board since 2014. Five generations of his family considers the Mississippi, Leech and Boy Rivers headwaters to be the "center of the earth". As an avid outdoorsman, Tim has explored, fished, hunted and trapped in most of the NWLT work area in his lifetime. Most recently, Tim was named to the Minnesota Waterfowler Hall of Fame to add to his service awards from Ducks Unlimited, Minnesota Waterfowl Association and the Minnesota Conservation Federation.
Mary Ackerman, Vice Chair
Mary brings years of marketing and management expertise from her years at Macalester College and community mobilization and development experience from the Search Institute of MN. Having spent every summer growing up on Ten Mile Lake near Hackensack, she and her husband, Jim Reents, retired to the family cabin to live year-round. They are the founders of the Northern Water Alliance of MN. Mary is also on the Board of the Ten Mile Lake Association.
David Miller, Secretary
David Miller grew up in Iowa and now lives in Minneapolis, where he practices law. His first summer experience in North Central Minnesota was in the late 1970s on Rush Lake–the smallest but prettiest lake in the Whitefish Chain. Since the late 1990s, he's spent his summers traveling to Hackensack, first to Ten Mile Lake and later to Webb Lake. David serves on the board of Northern Waters Land Trust because the woods and lakes of North Central Minnesota have given him a glimpse of nature at its most elemental, and he wants future generations to be able to have that same experience.
Nathan Lundeen, Treasurer
As a Finance Consultant by trade, Nathan assists private and public organizations with developing and improving key reporting metrics, identifying trends that help directors make better cost control decisions, and highlighting areas of non-value added work to prepare for significant growth. Prior to Nathan's consulting career, he held strategic planning positions at Mesaba Airlines and Hawaiian Airlines. Nathan and his family have a family cabin on Kabekona Lake and support the Kabekona Lake Foundation.
Randy Ferrin
Randy was a hydrologist and ecologist for the US Forest Service and National Park Service for over three decades. His last assignment was the Chief of Natural Resources for the St. Croix National Scenic Riverway. He has been visiting the Woman Lake area since the 1960's, and he and his wife Kathy have owned a lake place there since 1991. They donated a conservation easement on their property in 2012. He has served on the Boards of several non-profit conservation organizations.
Robert Frink
Bob retired as CEO of Craford Company, a multi divisional company focusing on mechanical contracting and manufacturing. After the sale of his majority interest in 2017 he became a part of an investor group developing and opening a brewery in Bettendorf, Iowa.
Ray Gildow
Ray Gildow is a retired vice president of Central Lakes College with campuses in Brainerd and Staples. He is a professional fishing guide in the Brainerd area and serves as host for Lakeland Currents, a local public affairs program on Lakeland PBS. He is also an outdoor writer for Action Outdoors, a publication that is featured in about 22 newspapers in Minnesota and Wisconsin.
Robert Karls
Bob is a hydrogeologist with over 40 years of experience in solving environmental challenges. He has spent 32 years in consulting but has also worked for the Minnesota Pollution Control Agency and the US Geological Survey. Bob and his wife have been invested in a lifetime of experiences for their children and now grandchildren in the waters and woods of Aitkin County and he is passionate about the legacy that we will be leaving for future generations.
Maggie McGill
Maggie is a retired school administrator who is fortunate to spend from May until October in the paradise of northern Minnesota. She retired as chair of the Northern Water Land Trust in 2017 but after a year's absence realized how much she missed the commitment of land trust members and the work being done to preserve and protect the land and water that we all love.
Nancy Meier
Nancy Meier and her husband, Dan, have lived in the Hackensack area for over 3 decades. Most of that time has been at their home on Stony Lake. Both of them enjoy the outdoors and want the beauty we see today to remain far into the future. Nancy retired from teaching in June 2018, after 34 years at the Pine River-Backus School District. She enjoys volunteering and traveling.
John Persell
John is currently an Environmental Policy Analyst for the Leech Lake Band of Ojibwe. From 1978 until 2006, John was Director of the Minnesota Chippewa Tribe's Water Research Lab in Cass Lake Minnesota. This Federally certified lab provided drinking water analyses throughout the Great Lakes States and specialized in the development of lake water quality management plans for Tribes, Counties and Lake Associations. John has also served eight years in the Minnesota House of Representatives, and is currently representing district 5A .
Terry Tripp
Terry is a retired military officer, having spent 28 years in the USAF and Minnesota Air National Guard. After the Air Force, he then worked for Delta Air Lines in their flight safety department and was a partner in a safety consulting business. Terry grew up enjoying summers on Big Turtle Lake in Marcell, where he fell in love with the outdoors, fishing and hunting, and appreciating the beauty and wonders of the lake. In 1998, he and his family bought a cabin on Widow Lake near Hackensack, and in 2012 he and his wife, Lynnette, built a house and became year-round residents. They are very thankful to live in an area of the country where we have vast amounts of pristine public waters and forestland. This is very unique to Minnesota and Terry joined the Northern Waters Land Trust to help preserve this wonderful heritage of ours.
Derek Jensen
---
Volunteer Now!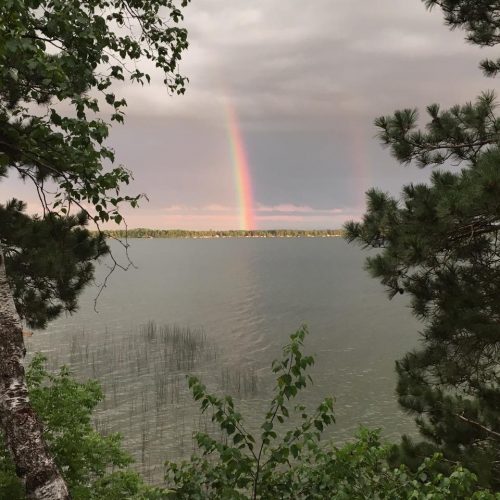 Anyone can contribute their time, energy, and expertise as a volunteer, be it outdoors as a site steward or photographer, networking in support of our fundraising efforts, or inside providing valuable office support. Contact us to find out about our current opportunities.